Make your dreams come true in the city of love
Photography is more than just taking pictures: a professional photographer in Paris has to know his craft and have an eye for details. Sometimes I'm even an actor and a secret messenger …
That's what happened during this wedding proposal photoshoot at the Eiffel Tower, one of the most romantic backdrops imaginable. The bride to be – a semi-professional model – didn't know that the love of her life was going to propose to her. She was invited to Paris for a professional fashion photoshoot.
Weeks beforehand, her partner had contacted me from Austria to tell me his plan. He wanted me to contact her to invite her to Paris for a fashion photoshoot so that he could surprise her with a proposal in front of this gorgeous backdrop.
The early bird catches the worm at this photoshoot in Paris
First I thought that this was an elaborate hoax, but soon I was hooked. A few e-mails later I contacted the bride to be, adding my own creative input. Flights had to be organized so that the future bride and groom wouldn't sit next to each other on a plane. Hotels had to be notified as to not reveal the name of the groom. Their travel to the Trocadero had to be planned without them meeting each other on the deserted streets of Paris in the early morning.

I first met my "model" Moni the night before the photoshoot, when I took her to her hotel posing as a photographer for a fashion label, proving my acting chops and adding a finishing touch to the groom's big surprise.
The photoshoot began in the early morning at the Trocadero
The next day, we met up early in the morning at the Place du Trocadero for her fashion photoshoot. After one hour and multiple outfit changes, I informed her partner Thomas that now was his time to shine. I positioned Moni so that he could come up behind her without her noticing.
A romantic wedding proposal in Paris
What a surprise for Moni who had absolutely no idea that her fashion photoshoot would turn into a romantic wedding proposal Paris. Every single picture I took radiates with happiness.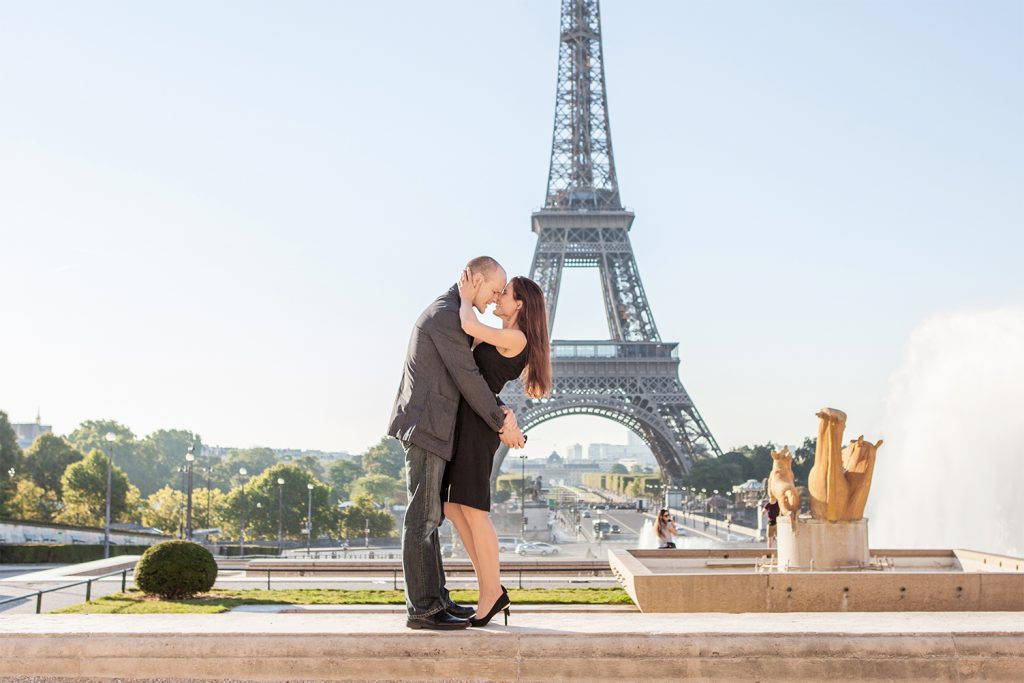 A romantic couples photoshoot on the banks of the Seine, facing the Eiffel Tower in Paris
A stone's throw away from the Eiffel Tower the banks of the Seine are the perfect backdrop for a romantic couples photoshoot in Paris. In the warm morning light the bride and groom to be were finally able to enjoy a new day's dawn together. These romantic pictures will always remind them of the beginning of their life together.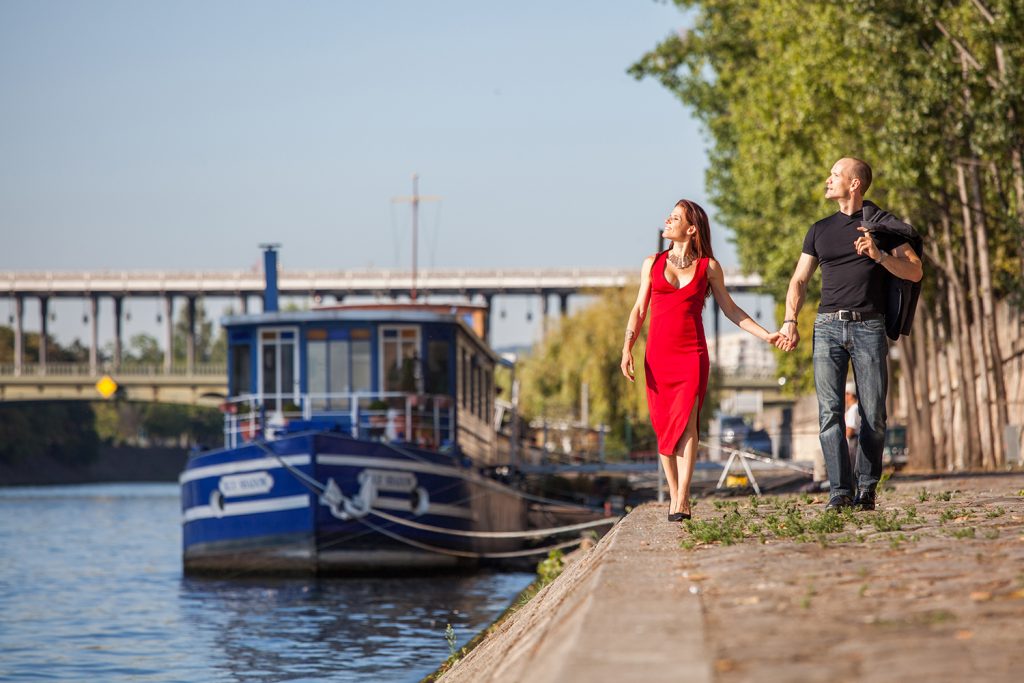 They were thankful not only for all the beautiful pictures, but also for my involvement in making their wedding proposal an unforgettable event that they will be talking about for many years to come.
It's not possible to plan love and happiness, but it is possible to plan moments like these that will make your romantic dreams come true.

I wish you all the best for your future together, and many more unforgettable moments to share with each other. I'm loking forward to being part of such a wonderful story again, and maybe we'll see each other when you say your vows as your wedding photographer.